Matrix Profile M3
Matrix Profile M3
LED 700w lamp, CMY, CTO, Linear zoom 5°-55° degree
Price: Inquiry Now
Inquiry:
Features

LED 700w lamp

4 groups 8 direction frameing

CMY, CTO, Iris, Animation gobos

Linear zoom

two prisms,3D effects

Share this:

Related Resources: Catalog
Matrix Profile M3 More Video 1
Matrix Profile M3 More Video 2
Description
Matrix Profile M3
features an advanced, 4-blade shutter frame system with the ability to fully blackout and a 90° rotation. Its precision LED optics feature CMY + CTO color mixing and a fast 10:1 zoom ratio that maintains a flat field of focus even when fully wide. It also has an adjustable CRI from 74 to 91 CRI for use as a key light for broadcasted events.Matrix Profile M3 offers great static, rotating, and animation effects from its 2 gobo wheels (1 rotating, 1 static), animation wheel, 2 independent and overlapping prisms and frost. Control as you see fit with DMX, sACN, Art-Net.
Features:
1. An advanced 700W led moving head head profile fixture including CMY+CTO color mixing, a four blade framing shutter system with rotation, a color wheel, a CRI filter, animation wheel, a 10:1 zoom, two independently layerable prisms, frosts, a static and a rotating gobo wheel
2. 16-bit dimming of master dimmer for smooth control of fades
3. Variable CMY + CTO color mixing system to create a wide pallet of colors
4. Independently layerable 6 facet linear and 3- facet round prisms for increased prism options
5.One rotating and one static gobo wheel for dynamic texture possibilities
6. Independent light and medium frosts for beam control
7.+ or – 60 degree rotation framing shutter system to allow for better framing positioning.
8. Animation wheel for enhanced visual effects
9. Iris for total beam control
10. RDM control over DMX for fixture reporting
11. 5° to 50° zoom angle for variable beam sizes
Specifications:Source:
1 LEDs (CW) 700 W, 8,000K
50,000 hours life expectancy
CRI/TCLI:74.1
W / Filter: 91
TLCI: 50.9
Beam:
Beam Angle: 5.° to 50°
Field Angle: 7.6° to 61.4°
Framing Shutters: Yes
Prism 1: 6 linear facets, motorized, rotating
Prism 2: 3 Circular facets, motorized, rotating
Color:
Colors: 7 + white, split colors, continuous scroll at variable speeds
Colors: Variable CMY flags, CTO flag, CRI filter, color correction,
Color Temperature (at full): 7,800 K
Gobos:
Gobos (1): 6 + open (7 glass), rotating, interchangeable, indexing, slot-n-lock, continuous scroll at variable speeds
Static Gobos (2): 8 + open (9 glass), continuous scroll at variable speeds
1 animation wheel
Effects:
4-blade shutter frame ,Profile, 90° rotation
Variable CMY + CTO color mixing system
1 Color Wheel
2 gobo wheels (1 rotating, 1 static)
1 animation wheel
Prism: 6 linear facets, motorized, rotating
Prism: 3 Circular facets, motorized, rotating
Motorized Zoom,10:1 zoom. 4-52 degree
Iris
CRI from 74 to 93 CRI
Frost 1: Light Frost - Motorized
Control:
Data Connectors: 3- and 5-pin XLR in/out
XLR Net RJ45 connectors in/out
Control Protocol: Art-Net, DMX,, sACN
DMX Channels: 36chs
Power:
Power Connection:Powercon in/out
Input Voltage: 100 to 240 VAC, 50/60 Hz (auto-ranging)
Max. Power and Current: 1,000 W, 10.34 A @ 120 V, 60 Hz
Size/Weight:
Length:16.9''(428mm)
Width:10.7''(272mm)
Vertical Height:29.4''(749mm)
Weight:84.7lbs(38.2kgs)
IP 20
Summary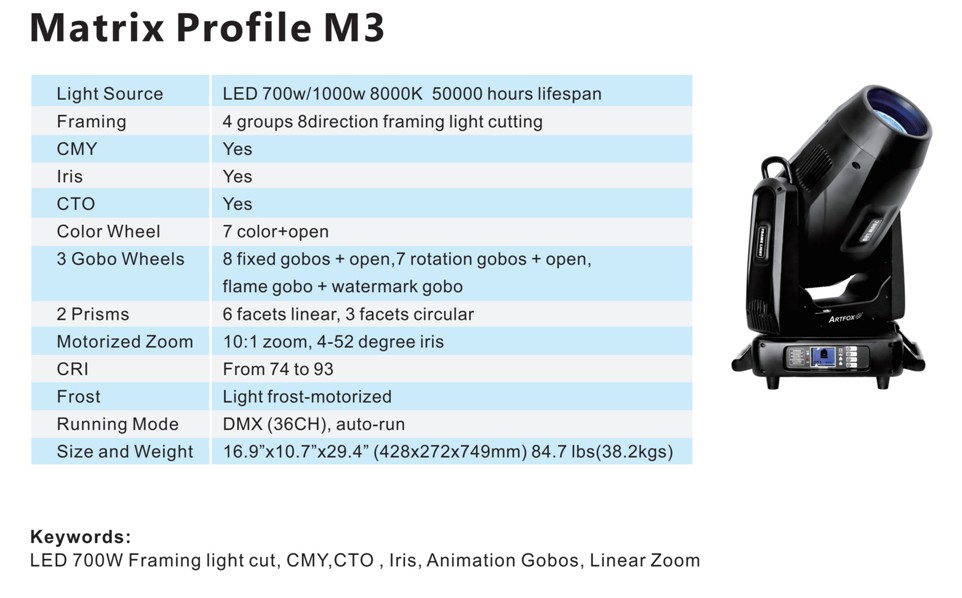 Inquiry for Matrix Profile M3
We will reply you in 24 hours, and please feel free to call +1-(323)287-5559 or email to sales@artfox.net