Beam Wash L6
Beam Wash L6
6x60w RGBW LEDs, Beam Wash 2-in-1, Pixel tech
Price: Inquiry Now
Inquiry:
Features

6x60w RGBW Osram leds

Beam wash 2-in-1, linear zoom

Infinite Pan and Tilt

Excellent optic features: Beam is sharp, Wash is very even

with folding clamps

Share this:

Related Resources: Catalog
Beam Wash L6 More Video 1
Description
The ARTFOX "
Beam Wash L6
" a most extremely powerful Wash Effects fixture featuring custom big size designed optics to create extreme color mixing, pixel mapping, pre-programmmed color and 3.5° – 49° zoom range ,Infinite Rotation of Pan and Tilt. Powered by 6pixel mappable (60 W) RGBW LEDs, Crisp beams, a powerful output and quick movements create amazing show, it can handle any application, even aerial washingwith ease.
The Beam Wash L6 features 6-60W RGBW Quad LEDs, pixel mapping ,most power mutil-chip quad-color, the advanced zoom optical system, which range from 3.5-49 degrees . To fit with high-end applications, It also features 16 bit Dimming curve,,excellent color mixing. Extremely quite fans design, 3 section circle control. Because of Special spherical Lens, there are no any leak lights, so the beam effect is narrow and wash effect is super bright.
Features:
Infinite Rotation of Pan and Tilt
(6)60W, ,4 in 1 moving head beam wash with pixel mapping and zoom
Individually 6 pixel control
3.5 degree narrow Beam and 49 degree large bright wash , Beam wash, 2 in 1.
It features folder clamps, extremely powerful output.
Precise and fast movement, silent fans and movement.
16-bit Dimming of master dimmer as well as individual colors for smooth control of fades
Built in colors for quick design possibilities
3.5° - 49° Zoom angle for variable beam sizes
SpecificationsSOURCE
(6) 60W RGBW LEDs
60,000 Hour Average LED Life*
EFFECTS
Motorized Zoom (3.5° - 49°)
Linear Color Temperature Presets
RGBW Color Mixing and Pixel Control
Color Presets and Macros
Electronic Strobe and Variable Dimming Curves
16-bit Dimming
CONTROL / CONNECTIONS
2 DMX Channel Modes (25 /32chs)
Infinite Rotation of Pan and Tilt 360 degree
4 Button LCD Menu Display
DMX, RDM,Protocol Support
3 PIN AND 5pin XLR DMX In/Out
PowerCON TRUE1 Power In/Out
Folder Clamps
SIZE / WEIGHT
Length: 25.4" (645mm)
Width: 8.7", (220mm)
Vertical Height:16.1"(410mm)
Weight: 36.3lbs. (16.5 kg)
ELECTRICAL / THERMAL
AC 100-240V - 50/60Hz
400W Max Power Consumption
14°F to 113°F (-10°C to 45°C)
APPROVALS / RATINGS
CE |FCC | cETLus pending | IP20
Summary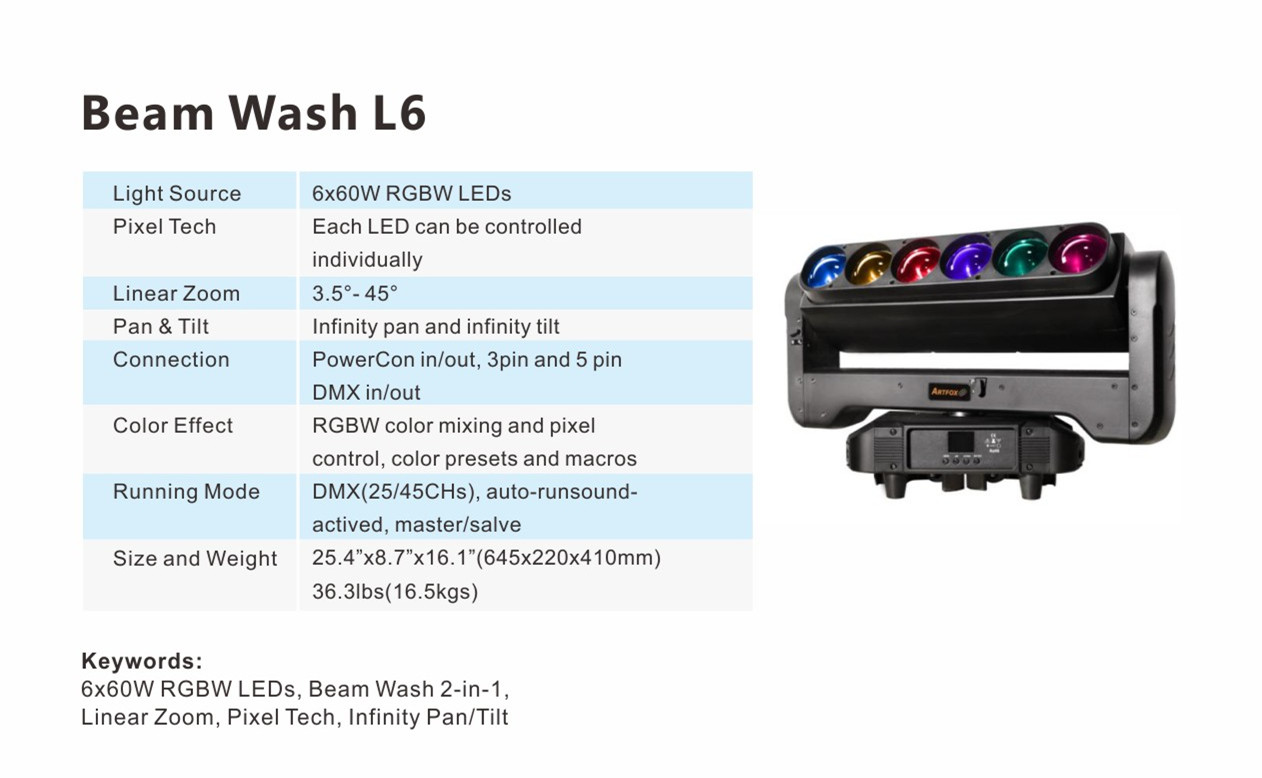 Inquiry for Beam Wash L6
We will reply you in 24 hours, and please feel free to call +1-(323)287-5559 or email to sales@artfox.net